More than 150,000 fans come to Churchill Downs for the Kentucky Derby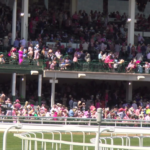 LOUISVILLE, Ky (WTVQ)- People packed into Churchill Downs for the food, outfits, betting, and of course racing as all eyes were on our state for the 149th Run for the Roses.
In fact, more than 150,000 fans watched the Kentucky Derby from the course.
"There are so many people from different walks of life and different thought processes," says Leslee Herrington, who traveled from Georgia.
Thousands came from all over the world to watch horse racing at its best.
"Seeing everybody's outfits and hats and fascinators. It's really fun to see," says Sydney Glenn.
Some coming to derby weekend for the first time.
"It's definitely a bucket list thing that I've been dying to do for my entire life. I've ridden my entire life and i have off-track thoroughbreds on my farm. So getting to see what brings them to my farm in the first place has always been a dream for me," says Herrington.
It's an annual tradition for Jon Hansen and his brother.
"We've been doing this for about ten years. 2013 was our first year. It was his (his brother's) bachelor party. So now we've got it down like perfectly. We put together a big group every year and come and enjoy the horses and enjoy the day," says Hansen.
The Hansens and their friends choose new suits every year ahead of their trip from Denver.
"We all have a pecking order and we each pick one. So we don't overlap. Two suits each year, so my closets getting pretty full. His closet is getting pretty full. So year, its all about the colors," says Hansen.
Aside from the Mint Julips and other notable drinks, there are some other favorite activities to enjoy.
"Can't forget gambling. I love the gambling aspect," one fan says.
But it's the racing that draws the crowd.
"Live large today and have fun and support these beautiful horses and support the jockeys that are on them," says Hansen.
Mage won the Kentucky Derby.