Local flower shops prep ahead of Valentine's Day
We're just two days away from the annual day of love. Valentine's Day is the Super Bowl for florists and on this Super Bowl Sunday, employees at Michler's have been busy prepping for the big bloom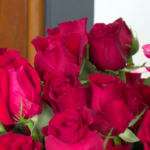 LEXINGTON, Ky (WTVQ)- We're just two days away from the annual day of love. Valentine's Day is the Super Bowl for florists and on this Super Bowl Sunday, employees at Michler's have been busy prepping for the big bloom.
"Valentine's day is usually one of the busiest weeks for us. We get a ton of flowers in, a lot of customers coming to pick stuff up," says Katie Strayer, the manager at Michler's.
Strayer says their employees have been busy working around the clock getting orders ready for Valentine's Day.
"We'll end up working late a couple nights," says Strayer.
For five generations, Michler's has grown flowers and plants for the Lexington community and beyond. This year, the florist and greenhouse is offering a wide range of bouquets and vases.
"We have the grand spectacle, which has a lot of lilies and roses, we have a lot blooming plants," says Strayer.
The floral shop also has chocolates for sale. The Kentucky Native Cafe is attached to the greenhouse and will open for Valentine's Day for a one stop shop.
Strayer says if what they've seen already leading up to the day of love is any indication, then the day itself will be even busier.
"We'll run maybe 6 vans, 7 vans trying to get everybody their valentine's day flowers," says Strayer.
In recent years, florists have had issues getting certain flowers due to the pandemic, supply chain issues, and shortages. This year, however, things are improving.
"It's been a little better. With Covid, the flowers were a little more difficult to get to so we've been able to source some really great flowers this year," says Strayer.
If you're one of those last minute shoppers, Strayer says time is running out to get your flowers delivered.
"At some point, we do reach a cutoff, but at that point we can still do the hand-tie walk-in flowers, so if somebody misses the cut off, then they're able to just come walk in and get some beautiful flowers," says Strayer.
The staff at Michler's handwrites hundreds of cards every week. They have tips to help you search for the right words to share with your significant other this valentines day. You can find more here.