Lexington police help kids fish through Cops and Bobbers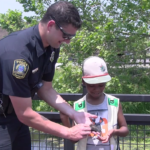 LEXINGTON, Ky (WTVQ)- The Lexington Police hosted their annual 'Cops and Bobbers event Saturday at the Gainesway Park Fishing Pond.
The event was free to the public and was held from 10 a.m. to 1 p.m.
Lexington police began this event as a way for the community to meet and get to know those who protect them.
"This is the fifth year we've had this event at Gainesway Park here. It's a free fishing event for kids to just come out and fish with police officers," says Commander Jesse Harris of the Lexington Police Department.
There was something fun for everyone in attendance with fishing, free food, and face painting. ABC 36 spoke with organizers and those who attended the event about their experience.
"So I was out here and he was helping me put my worm on my fishing pole cause I needed help and that's how we met," says Ja'Anthony.
"Gathering, enjoying each other's company, actually getting to know one another and just being among each other without no issues," says Miquel Reed.
No prior fishing experience or fishing license was required. Fishing equipment was provided for anyone who needed it.