Lexington family displaced after Sunday house fire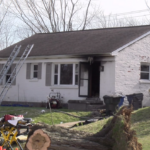 LEXINGTON, Ky (WTVQ)- A family in Lexington is without a home after their house caught fire Sunday afternoon.
The Lexington Fire Department says crews responded just after 1:30 p.m. to a home on fire in the 1600 block of Lindy Lane.
Fire officials say the family made it out safely, but two people were taken to the hospital with non-life threatening injuries. Some of the family's pets were also unaccounted for.
Crews were able to put out the fire.
The cause and origin of the fire is under investigation.