Lexington community wears orange for National Gun Violence Awareness Day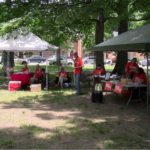 LEXINGTON, Ky (WTVQ)- So far in 2023, Lexington police have investigated at least thirty shootings and nine gun-related homicides. Some in the community are urging more action needs to be taken to help stop the violence.
On Saturday,  people gathered at Woodland Park to raise awareness for gun violence by wearing orange.  It was part of National Gun Violence Awareness Day across the country.
"It's not a state by state problem. It's a country problem and we need to work together somehow to make a difference," says Deana Mullins.
Mullins knows what it's like to lost a child to gun violence. It's been six years since her son Sean was killed. The suspect was caught, went to trial and was found not guilty.
"It's something we struggle with every day knowing that we're going to run into this person or we may say them somewhere and knowing they actually got away with what they did," says Mullins.
That's why Mullins now advocates for gun violence prevention and stricter gun laws- through the Lexington chapter of Moms Demand Action. It's also how her daughter, Shelby Howard, found her passion.
"When we had the trial, and we got the non-guilty verdict, it kind of made me want to go into law and become a lawyer and help families who've been through what I've been through," says Howard.
Howard says she's close to graduating from EKU and plans to attend law school at UK.
Both were part of the National Gun Violence Awareness Day during Wear Orange Weekend. Events took place in Lexington, Louisville, and Bowling Green.
Law enforcement leaders spoke, as well as survivors of gun violence. There, they advocated for gun-related legislation.
"We just want people to know we're losing one too many. If you lose one a year, that's too many. It's time to realize that guns are a permanent issue. They're going to take a life, they're not going to bring it back. Nobody can re-spawn like the video games, nobody can come back and say hey I don't want them dead now. Once that trigger is pulled, its permanent and you can't bring them back," says Mullins.
In an effort to keep others from going through the same devastation, their families are going through.
"Sean cant have a voice anymore. He's not able to speak. He's not able to do the things that he loved and so i have to be that. And i have to continue because if I don't continue, the world will forget Sean. And I don't ever want the world to not know who he was," says Mullins.