Ky Senate approves SB 150, which bans gender affirming care for transgender minors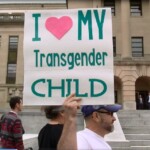 FRANKFORT, Ky (WTVQ)- Lawmakers have had a busy day Thursday. They're hoping to pass bills before a midnight deadline.
Among the bills include Senate Bill 150, which has been a confusing bill. In part, lawmakers have added similar language from House Bill 470.
After hours of debate, the Senate voted to 30-7 to send the bill to the governor's desk.
In the bill, educators aren't required to use pronouns that don't match the student's gender on their birth certificate. It also requires parental notification on sexually-related matters.
SB 150 also prevents health care providers from giving gender-altering surgeries and prevents transgender youth from having access to puberty blockers.
"I think a lot of people are feeling great uncertainty. And its not just us here in this bill. It's all across the Commonwealth. LGBT people and their families are waiting for an answer whether they're gonna have rights when they wake up," says Rebecca Blankenship, the executive director of Ban Conversion Therapy KY.
Transgender youth would not be allowed to use school restrooms, lockers rooms, or shower rooms used by students of the opposite sex while students of the opposite sex are present. Accommodations can be made, like allowing the students to use teacher's restrooms or using the restrooms when no other students are around. It also bans gender affirming medical care.
The bill also enforces policies to respect parental rights, by outlining how sex education would be taught in schools.
The bill passed a House subcommittee 16-5.
After more than two hours, the House voted to approve the bill 75-22, which sent the bill to the Senate. The Senate voted to approve, or concur, with the House's changes and sets it up for a final vote.
Now, advocates against the bill say they're going to keep fighting for transgender lives.
"The cost would be measured in hundreds if not thousands of lives. our hope is that we're going to minimize the harm here and whatever steps we have to take here after today, we're going to do it, "says Blankenship.
Opponents say the language in the bill is sickening, would harm children, and would lead to more suicides by transgender youth.
"This bill is full of absolute bigotry. It is not what it pertains to be, what it claims to be. We are attacking a group of vulnerable people," says Rep. Lindsey Burke, of Lexington.
Meantime- supporters of the bill have said they're trying to protect Kentucky families and children.
"I voted yes proudly for my two daughters and my granddaughter. Today I voted yes for all these young ladies and these young adults and these young girls that was on the house floor today who do not want boys in the girls bathrooms," says Rep. Bill Wesley, (R) of Ravenna.
You can read the full bill here.