KY Fish and Wildlife encourages water safety ahead of Memorial Day weekend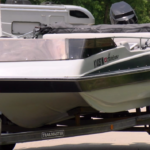 FRANKFORT, Ky (WTVQ)- As many take to the water for the unofficial start of summer this Memorial Day weekend, it's a reminder to keep safety top of mind.
"We are getting ready for a boat day," says boater Gary Russell.
Russell and his family are loading up and hitting the waterways at Frankfort's Benson Marina Boat Dock ahead of Memorial Day weekend.
"The weather is beautiful today, that's why we're going today," says Russell.
Kentucky officials are expecting large crowds to fill Kentucky's rivers and lakes. Kentucky Fish and Wildlife officials are encouraging boaters to be extra careful this holiday.
Sgt. Rufus Cravens with the Department says more patrols are expected to make sure all boaters are obeying laws.
"Everybody that's working the state this weekend, pretty much all of our officers that are working the state will most likely be on water patrol somewhere throughout the state, so it is a very big weekend for us," says Sgt. Cravens.
Cravens says there are some things boaters need to know before going out. He says its important for boaters to have the correct boating safety requirements, including having "good-condition" life jackets readily available for everyone on board.
"It has to be readily accessible, meaning it doesn't need to be buried in a console somewhere with a bunch of stuff on top of it, where you cant find it or cant get to it," says Cravens.
He says fire extinguishers are important to have on board and to make sure your boat registrations are up to date.
It is also illegal to drink on Kentucky's public waters. Officers will be watching closely and enforcing those laws, as well.
"A lot of people don't realize when you're out on a boat and you're drinking, the weather such as the sun, the motion, the constant motion of the water, the heat, those sort of things. The reflection off the water. They tend to intensify the affects of alcohol in the system. So someone who might be fine otherwise on dry land, you add all those elements on the water and it can intensify that," says Cravens.
Officials also want to remind boaters that its Kentucky law for all children under 12 to wear a life jacket while out on the waterways.