Kentucky's longest-serving rabbi set to retire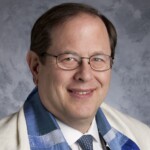 LOUISVILLE, Ky (WTVQ)- Kentucky's longest serving rabbi is retiring Sunday. Rabbi Robert Slosberg has been the rabbi at Congregation Adath Jeshurun in Louisville since his ordination in 1981.
Slosberg's accomplishments include helping raise more than $5 million to renovate the synagogue. He also guided the congregation through a number social action projects and expansions.
Slosberg received his Bachelor of Arts from Columbia University. He additionally earned a B.A. and an M.A. Degree, rabbinic ordination, and an honorary Doctor of Divinity from the Jewish Theological Seminary.
He and his wife Deborah have three children and two grandchildren.
There will be retirement program Sunday night at 6:10 p.m followed by a dessert reception.
Louisville mayor Craig Greenberg is scheduled to speak, along with Slosburg's Columbia classmate Rabbi Elliot Gertel.