Kentucky's largest sneaker expo returns
You could also buy street wear, vintage clothing, handmade art work, custom rugs, collectibles, and more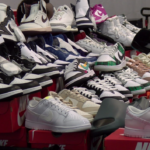 LEXINGTON, Ky (WTVQ)- Kentucky's largest sneaker expo was back in Lexington Sunday for the third time.
More than a hundred vendors from across the Midwest packed the Clarion Hotel and Convention Center, offering thousands of pairs of new and used sneakers.
You could also buy street wear, vintage clothing, handmade art work, custom rugs, collectibles, and more.
"People are really excited. I've seen a lot of young people, a lot of kids, a lot of families come out. So it's really nice to engage with those people and give them a chance to maybe get some shoes that they wouldn't be able to get elsewhere," says Tyler Foley, the co-founder of Snkr Bst.
Sneaker Beast, which was founded in 2021, also has shows in Tennessee and Indiana.