Kentucky Pop-Ups hosts Winter Market at Central Bank Center
Ninety vendors took part offering handmade items, jewelry, arts and crafts, clothes, foods, and much more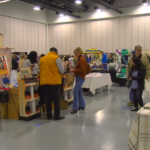 LEXINGTON, Ky (WTVQ)- Small businesses had a chance to showcase their items during a winter market Sunday at the Central Bank Center.
The event was organized by Kentucky Pop-Ups, which is a traveling vendors market.
Ninety vendors took part offering handmade items, jewelry, arts and crafts, clothes, foods, and much more.
You could also bring donations for the Lexington Humane Society.
Organizers say events like this help offer support to small businesses so they can keep prices affordable for their customers.
"Our goal is to support the small Kentucky businesses that are just starting out and having a place to showcase their items without having a store front or supplementing their income. A lot of these businesses were born out of the Covid pandemic. So we're really trying to lift up the community that way," says Elizabeth Stepp, the owner of Kentucky Pop-Ups.
Stepp says she is planning more markets for the spring and summer and hope to expand to cities beyond the Lexington community.
You can find more information here.