Kentucky Crafted Market wraps up 40th anniversary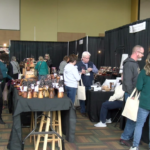 LEXINGTON, Ky (WTVQ)- Alltech Arena has been full of artists and vendors this weekend for the 40th annual Kentucky Crafted Market.
The event featured around 120 artists from across Kentucky and beyond, using a variety of material to create their art, including stone, wood, paint, and beeswax.
"You'll find a variety of mediums here at the market. I like to say there's a lot of 'gee, I've never seen that!' moments that somebody will have coming here,"says Tom Musgrave, the communications director for the Kentucky Arts Council.
12 musical acts performed through the weekend on the stage. And there were also food vendors and hands on activities.
"I don't really know what my pieces are going to be when I start, so being able to dive in and just let my hands work with the form and let it come out is the most exciting. You never really know," says vendor Michelle Hayden, who says she was excited to share her artwork with attendees. She uses beeswax in her art.
The market also accepted donations to the Team Eastern Kentucky Flood Relief Fund.