Kentucky college students rally for higher education at State Capitol
The rally is put on annually by the Board of Student Body Presidents, which is made up of about dozen university leaders across Kentucky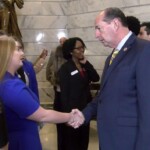 FRANKFORT, Ky (WTVQ)- Hundred of student body leaders from Kentucky's colleges and universities rallied Thursday to let their voices be heard.
The rally is put on annually by the Board of Student Body Presidents, which is made up of  university student body leaders across Kentucky. Their goal was to advocate for their education and the future of their universities.
"This is the most important thing that we do all year because it really shines a light on that students care," says Paige Murphy, the chair of the board.
Students shared a number of concerns Thursday, advocating for more opportunities for their student bodies, funding, and encouraging other students to pursue higher education and graduate degrees.
"We're here making sure that we are advocating and talking about or even promoting stuff that is relevant to our college campuses and the students well-being and welfare," says Olivia Feck, a member of the Student Government Association at Western Kentucky University.
Speakers during the rally included the President of the Council on Post-Secondary Education Dr. Aaron Thompson, who says Kentucky students had to navigate through a pandemic and other challenges, which have impacted their mental health .
"Mental health has been on the increase for a long time, we know that. The pandemic really brought it in to bear. So this has become quickly an item we didn't talk about because of the stigma years ago to now the number one thing we talk about. Not because its popular. We do it because its real," says Thompson.
Governor Andy Beshear talked about the state having one of the lowest unemployment rates in the past year. He says Kentucky companies are going to be looking for the brightest future employees, and touted the students as the future leaders of the state.
"Today shows what's possible when we all come together to make a difference on the issues that matter most to our families, when we stop trying to move the state to the right or the left, and just focus on moving it forward," says Beshear.
Throughout the day, the students took the opportunity to speak to legislators in special meetings, letting their voices be heard.
"The goal today is just to shine a light on higher education in that we feel that it is important in the legislator meetings that will follow and that preceded this, each school is taking their own legislative priorities," says Murphy.
State senator Steve West spoke about the General Assembly's work of increasing funding for education by fifty percent in the general fund. He says they've also increased funding to go towards post-secondary education, including improving educational and infrastructure needs on college campuses.
The University of Kentucky, Morehead State, The University of Louisville, and Western Kentucky University were among the universities represented at the rally.