"It's frustrating": Some Woodford County residents still waiting on power restoration after last week's storm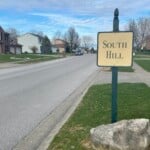 ---
VERSAILLES, KY (WTVQ)- Some households in the South Hill neighborhood in Versailles are still waiting for their electricity to be restored five days after severe storms swept through the area
Residents say it's been a struggle to keep warm with the temperatures dropping at night — but theyre hopeful their power is restored Wednesday night.
Sarah Dotson, a mother of two small children, says they've been fortunate they've had help from family members.
"We borrowed a generator because we're concerned about losing all of our food because we have stocked fridges. And we don't have any hot water. So that's why we're headed to Lexington (to my in-laws) to take hot showers. And we're washing everything in the dark usually at night in cold water. But we do have a fire place so that's warming the level floor of our home."
Across the street, George Higgins is dealing with roof and fence damage.
"It's been awful," says Higgins.
Higgins is also using a generator, which he says is costly.
"I've been buying gas every day, $20 a bucket. Buckets hold about five gallons. $20 a bucket, so I've already spent close to $200 dollars just in gasoline just to keep the generator going."
Higgins says he's tried contacting Kentucky Utilities to get updates, but hasn't been able to get them. He says he's concerned for neighbors who rely on electricity to live.
"Our neighbor right up the street uses an oxygen tank, so I've been trying to help him," Higgins says.
On Tuesday, crews were able to restore power to some homes in the neighborhood — but minutes later- residents were back in the dark. That was because a tree was on the line and had caught fire.
Woodford County Judge Executive James Kay says initially, around 8,000 people lost power Friday in Woodford County. That number continues to go down- as crews work around the clock.
Meantime, for other families- like Fay and Jack Lee, who got power back Tuesday night, they're grateful they have family members they can depend on if needed. Lee says she's also grateful for the utility workers.
"As a community, we're really blessed that we've had so many people from so many states that have come in to help. And I guess we dont realize how fortunate we are until we do have a disaster of some kind," says Lee.
At last check, Kentucky Utilities says around five hundred people are still without power in Woodford County. Spokesperson Daniel Lowry says crews are working in the area to restore power to those who don't have it yet.
According to the LG&E and KU website, power is expected to be restored by 11 p.m.