"It just don't seem real": Hundreds attend visitation for fallen Scott County Deputy Caleb Conley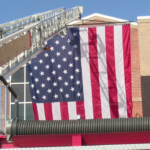 GEORGETOWN, Ky (WTVQ)- More than a week after Scott County Deputy Caleb Conley was shot and killed during a traffic stop, his family and friends are preparing to say one final goodbye.
Conley's visitation was held Wednesday at the Scott County High School gym.
An American flag hung over the entrance of the gym, a symbol of the sacrifice Conley gave while on duty.
Hundreds of people came to pay their respects to the fallen officer during a visitation, including first responders from across the state.
"He was a good husband, a good father, and he cared about his community," says Donovan Riggins, who was a family member of Conley's by marriage.
Riggins says the support they've been shown since Conley's death has meant so much to the family.
"Overwhelming, overwhelming. I, for one, appreciate what the community has done. And the Scott County Sheriffs Office."
Conley was shot and killed on Monday, May 22nd during a traffic stop on I-75. His alleged killer Steven Sheanshang has since been charged with murder in Scott. He faces other charges in Fayette County.
"It's been rough. It don't seem real. He was just an awesome guy," says Abby Pierson.
Pierson went to school with Conley and became friends. She says he always gave 100 percent to his family, his job, and the community.
She says seeing the amount of people show up to the visitation would have made Conley proud.
"It just shows how many people he's touched, how many hearts. And just to see everybody come together for him, I know his family appreciates it more than anything," says Pierson.
Conley's family friends and community will have a chance to say that final goodbye Thursday at his funeral. It begins at the Scott County High School gymnasium at 11 a.m. A burial will follow at Battle Grove Cemetery in Cynthiana.