"I can't thank him enough": Funeral held for EKU coaching legend Roy Kidd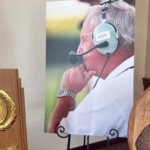 RICHMOND, Ky (WTVQ) — He's been described as a great coach but an even better man. The legendary former EKU head football coach Roy Kidd was laid to rest Monday in Richmond.
Dozens of family members, former players, and community members came in to say those final goodbyes during the funeral at EKU's Center for the Arts.
"It's a sad day, but it's also a good day from the standpoint of what he meant to the university, what he meant to the state," says Larry Kirksey, who played under Coach Kidd.
Coach Kidd led the team from 1964 to 2002, winning two national 1-AA championships and finishing runner-up twice. He later earned an induction into the College Football Hall of Fame.
Kirksey played for EKU under the coach in the late '60s and early '70s. He said after he graduated, Kidd brought him back as a student assistant. He says that helped propel him into a 40-year coaching career. He says the impact that Coach Kidd had on his life and everyone else's helped make the world a better place.
"Coach Kidd was always there. And I can't thank him enough for all he did for me and my career. Because of him, I was able to pursue and do all the things in life and mentor young men," says Kirksey.
Fred Harvey also played under coach Kidd. He says the coach gave him a chance he probably never would've had.
"He made a tremendous impact on my life because I never received a scholarship from any other coach, but coach Kidd. Coach Kidd recruited me out of Florida himself. And he asked me to come play linebacker for him, and I immediately accepted," says Harvey.
Harvey says the legacy the coach leaves behind will impact future generations forever.
"That comes with what he has put in each and every one of us to also reach back to speak to the younger players or the players that are coming up in the future to be here for them. To lead and show them the same example Coach Kidd and his coaching staff showed us and treated us," says Harvey.
A university where memories are made and where a coaching legend will live on forever.
"Because of his impact on all of us, hey, it's a better place," says Kirksey.
The funeral was followed by a private burial at Richmond Cemetery, where Coach Kidd was laid to rest.