Hundreds of FCPS students compete in annual science fair
The competition returned to full capacity for the first time since the Covid pandemic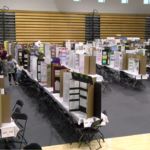 LEXINGTON, Ky (WTVQ)- Hundreds of students in the Fayette County Public Schools system were at Frederick Douglass High School Saturday, competing in the annual Kentucky American Water Science Fair.
For nearly four decades, the competition has showcased some of the best experiments that students have come up with on their own.
"My project was if sodas are bad for you," says Southern Middle School sixth grader Ryan Murphy.
Murphy explained his reasoning for choosing that particular project.
"Well my mom always said that sodas are bad for me because I drink a lot of it. And she says 'well, that's gonna keep you up at night. It has a ton of caffeine in it.'"
It's a theory he had to put to the test. Murphy was one of 500 students in grades 4 through 12 competing in the annual science fair. The competition returned to full capacity for the first time since the Covid pandemic.
"It's really a way for kids to show how they use science in making sense of the world around them, figuring things out, or just doing general experiments," says David Helm, the FCPS Science Instructional Specialist.
Each student had to come up with a unique question and then test their experiment.
"You start with the younger kids and the projects are like easy to understand. They're kind of cute. A lot of great colors. And then as you move to the high school stuff, I'm telling you I don't know half the words in just the names of these projects. It's so impressive," says Dan Wu, the vice mayor of Lexington.
The final results were presented to scientists and judges.
"Science is so important in an age where sometimes we dispute facts. So it's so important to have that basis of that scientific method, and be able to think critically and analytically, about things," says Wu.
Awards were given out. But there was another goal.
"It's fun. To me a science fair project should be fun. Should be something they're interested in. Should be something that they should do. And it doesn't have to be 'well I'm gonna cure cancer today'. It can be something I'm interested in and wonder why," said Helm.
As for Murphy. his results might encourage him to listen to his mom from going forward.
"So what you're saying is sodas are still bad," asked ABC 36.
"Yeah, sodas are still bad," said Murphy.