Hundreds come to Rupp Arena for revival service
Doors opened early Sunday afternoon and people started trickling in for the 2 o'clock start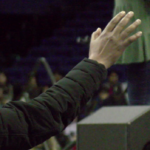 LEXINGTON, Ky (WTVQ)- While the revival on Asbury University's campus came to a gradual end Thursday, some are hoping to keep the movement going.
On Sunday, the seats inside Rupp Arena were filled once again this weekend, but not for basketball. The seats were filled for Jesus.
Hundreds of people gathered at Rupp Arena for another continuation of the revival. Doors opened early Sunday afternoon and people started trickling in for the 2 o'clock start.
"We came all the way here from Orlando, so it's something to look forward to," says Cristian Gonzalez, who came with his sister and grandmother.
The Gonzalez siblings traveled miles to take part in the revival service.
"We're just hoping to feel relief coming out of here, feeling like all my worries are gone. It's like starting anew almost," says Cristian Gonzalez.
"It's a new slate, like positivity and just coming out here and rejoice and more grateful and thankful for this life that He gave us," says Dianelis Gonzalez.
Since plans had been announced to slowly end the revival on campus, Asbury leaders encouraged the revival to continue in other places.
Nick Hall is the founder of Pulse, which organized the service at Rupp. He says he got many messages from people wanting to see it continue in Lexington, so helped make it happen.
"We want to help people be able to feel confident to take this home, to reach their friends. And our prayer is that this will be unleashed in thousands of churches and schools from this place to the nations," says Hall.
The service included prayer, worship, and music.
"This is a space for that, a sacred and holy place. And we really want to honor the integrity and honor what was done at Asbury and the environment that was just respected, created, and just stewarded really well. So we're doing our best to just create that environment for people to encounter God," says Pulse spokesperson Forrest Limon.
An unprecedented revival that is continuing on in the hearts of many.
"We haven't seen something like that since 1970. I'm 23 so I'm part of Gen Z. I don't think we've ever seen this in our lifetime. So what God is doing is impacting parts of the world that we're just not even seeing," says Limon.
The service at Rupp Arena is expected to wrap up at 11 p.m. There's no word yet on if the revival will be held at Rupp again or if it will move on to another location in central Kentucky.