Frankfort police chief speaks about extra patrol in downtown area
Police in Frankfort are stepping up their patrols after the chief says they're seeing an uptick in crime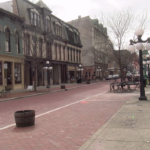 FRANKFORT, Ky (WTVQ)- Police in Frankfort are stepping up their patrols after the chief says they're seeing an uptick in crime.
"In recent weeks and months, we've had an increase in concerns in regards to you know maybe some unruly people, some noise issues, fights," says Chief Dustin Bowman of the Frankfort Police Department.
Chief Bowman says those concerns all came to a head last weekend when two people were injured in a weekend shooting. That shooting happened early Saturday morning on January 14th around 1 a.m. on St. Clair Street.
"Events like that in a small town such as Frankfort, because although we're the capital, it is a small town, it creates bigger waves. So we want to make sure we don't have a wave in which prevents people from coming down and enjoying themselves and enjoying the downtown area," says Bowman.
In response, every Friday and Saturday night between 10 p.m. and 2 a.m., two more officers will be patrolling in the St. Clair Mall and downtown district.
Some businesses say those extra officers are needed.
"We have actually asked in the past to have more police down here at night because there are times when, especially when bars are letting out that it can get a little rowdy out on the streets," says Karl Lawrence, the owner of the Mortimer Bibb's Public House.
The measures began Friday night- and chief bowman says its already paying off.
"I know we had an incident last night when someone was driving dangerously and recklessly through the downtown area. Because of this extra patrol, we were able to see it in action, have that vehicle stopped, and take some preventative measures for the future and hopefully it won't happen again," says Chief Bowman.
Officers are also cracking down on all state and local laws and ordinances.
"We want them down there having fun, we want them to come out but we just want it to be done in a safe way and proper way," says Bowman.
Chief bowman says the department expects to continue the increased patrols for a few months, but says they could continue for as long as it takes for people to feel safe in downtown at night again.