Fayette County Education Association holds Read Across America event
The event at Frederick Douglass High School had celebrity guest readers, arts and crafts, characters, and free book giveaways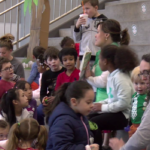 LEXINGTON, Ky (WTVQ)- On Saturday, the Fayette County Education Association celebrated a love for reading with its annual "Read Across America" event.
The event at Frederick Douglass High School had arts and crafts, characters, and free book giveaways.
Celebrity readers came in to read books to kids, including Kentucky Leutenant Governor Jacqueline Coleman, Fayette County school board members and city council members. ABC 36's own anchor Erica Bivens.
The Read Across America event was held in conjunction with other events nationally this week.
Organizers say this event has been held in Fayette County for more than ten years.
"We really want to make sure that we spread the joy of reading, making sure that kids are literate. Reading books with caring adults is really important, which is why we have our guest readers showing how important it is to pick up a book and read," says Jessica Hiler, president of the Fayette County Education Association.
The Read Across America event is the association's largest event held for kids each year.
Read Across America was held on March 2nd.