Block party brings community together, held in remembrance of late anti-gun violence advocate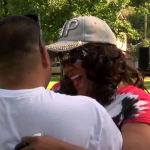 LEXINGTON, Ky (WTVQ)- As Lexington continues to deal with near-record homicide numbers and a rise in gun violence, one event happening Friday night is bringing the community together in unity.
It's called the Anita Franklin Community Wide Block Party. Organizers say its a chance to bring the community together to say "thank you" for its support and to raise awareness of gun violence.
"We're going to not stop at anything unless we see change," said Ricardo Franklin, a community activist and the late Anita Franklin's son.
It's a change that starts in the heart of the community. We Are Survivors is the host organization putting on the block party.
The late Anita Franklin started the organization following the death of her son in 2014. In 2019, she organized the first community wide block party.
It was the last one she put on before her death in 2020 and this is the first one since her death.
"This is a chance that she would love to give back. It's an event that she wanted to do again. And unfortunately, she's not here with us, but she is here with us," said Ricardo.
The event is meant to provide a safe place for some family fun, including free food, entertainment, and a lot of games.
"We are gonna have fall festival type games, like apples toss. There will be sack race where the deputies will get to race with some of the kids. There's going to be some great prizes. We had some great donations from different community organizations," said Deana Mullins of We Are Survivors. "We're also bringing laughter and happiness into a park that kids might be scared to go to unless they went to others."
The event is from 5-7 pm at the Charles Young Park on East Third Street.