Berea College celebrates new beauty care product vending machine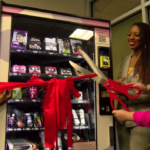 BEREA, Ky (WTVQ)- Students on Berea College say it's hard for them to find beauty care products that fit their needs, especially within walking distance of campus. They often have to travel miles just to find the right store that has hair creams and other necessities.
"Since I'm on a trip, I forgot my durag this weekend to protect my hair, so I thought I'd buy this to cover my hair up for the weekend. So it doesn't get messed up while I'm here," says visiting student Xavier Wells.
Wells is a future freshman. He says he knows what its like to not have access to the hair products he needs for his hair.
"The first year freshmen aren't allowed to have cars on campus. So its hard to get out, to get your hair products that you need," says Wells.
That is now changing after a ribbon cutting unveiling for the You've Got Curls vending machine. It's stocked up with items black students sometimes have a hard time getting. All items are $15 or less.
Melanie Day is the owner of the machine, which is the first one in the state of Kentucky.
"It's meant for students since it's perfectly curated for all textures of hair, whether its curly, straight, afro, or in-between. We also have beauty products so skin care is really important while you're also on campus," says Day.
Day is also a licensed cosmetologist in Lexington. She says she got the idea from her clients and says the project was a year in the making.
"I do have clients that are either alum, Berea alum or students on campus so just kind of hearing their feedback overtime as far as what they were needing. But in reality, it was filling a need and seeing something," says Day.
The ribbon cutting was part of the Black Cultural Center's Chop It Up event at Berea College, which featured free haircuts and free food.
"Students are able to no longer have to get a ride and go to Lexington or go to Richmond, they're able to at an affordable cost, get their supplies here," says Kristina Gamble, the director of the center.
Day says there are plans to add more beauty product vending machines in other campuses across the state. She says if students have any questions about beauty products or want to see other products in the machine, they can reach out to her for help.