Asbury University chapel service continues into fourth day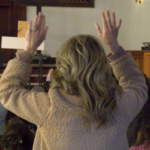 WILMORE, Ky (WTVQ)- A typical Wednesday morning chapel service on the campus of Asbury University in Wilmore is still going on three days later and has turned into something much bigger.
The service started at 10 A.M. Wednesday and was suppose to end about an hour later, but when it hit 11 A.M, the singing and prayer didn't stop.
It's only continued since then growing bigger and bigger everyday.
"It started in individuals hearts. And now it's grown to be a community," says Asbury University junior Amanda Hobbs.
Hobbs says the revival was something she and other students have been praying for. She's part of a prayer group on campus.
"I knew that when I started here (at Asbury University in 2020) that there was something more He had for us," says Hobbs.
What began as just a Wednesday morning chapel service is now reaching more than sixty hours.
The service turned revival in Hughes Memorial Auditorium has been filled with prayer, worship, testimony and repentance.
"It's difficult for me to describe what is happening," says Dr. Kevin Brown, the president at Asbury University.
The service is attracting visitors from across the country. Some estimate more than a thousand people have come in just to take part.
"This is the first revival, Asbury revival that I know of that's happened in the age of technology, that's happened in the age of social media. It's not just something that we read about years in advance when it happens," says Hobbs.
Even people around the world are hearing about it.
"I couldn't even summarize the emails and the texts that I've received internationally," says Dr. Brown.
As for the students, they hope it doesn't stop anytime soon.
"It's something that people are live streaming. It's something we see posted about on social media. And I think that this is the beginning of a unity like we've never seen before," says Hobbs.
A similar revival took place in February 1970.