Artwork lost in EKY flooding is remade, donated by Scott County artist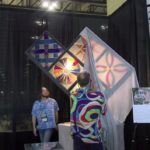 LEXINGTON, Ky (WTVQ)- It's been nearly eight months since historic flooding swept through eastern Kentucky affecting families, businesses and communities. Among those affected is a Whitesburg cultural non profit, called Appalshop. It's an arts organization that has hosted art archives, pictures, film producers and other historic work for more than fifty years.
"On the morning of July 28th, we woke up, or some of us had been up all night. We were trying to find our employees across the region. Many of us, me included had been flooded personally," says Willa Johnson, the Director of Film of Appalshop.
Johnson says what happened next was surreal.
"Then the pictures started coming in of Appalshop under six feet of water."
The organization lost decades worth of archives and history, including original Sun Quilt, a glass-made structure that was located on the grounds. The Sun Quilt was donated during the height of the pandemic by Scott County artist Dan Barnes.
When Barnes found out what had happened, he knew he needed to help.
"There was only one thing left for me to do, and that was to replace it," says Barnes.
So Barnes got to work.
"I started making the glass work. Each panel takes at least 24 hours to fire into a kiln. All the glass had to be cut up, layered up and prepared for that," says Barnes.
The work led to a surprise reveal Saturday at Alltech Arena, where Barnes surprised Appalshop leaders with a replica of the Sun Quilt. As he pulled back the curtain, there were hand claps and tears.
"This can be a beacon of light for them to look at so they can get tot he end of this catastrophe that took place, push them through and get them to the end so when the get the Appalshop totally refinished and up and running," says Barnes.
"It's a commitment to our craft, our art, and having a piece to like come back to us and come back to life, it sort of brings new life into where we're going next," says Johnson.
Appalshop is in the process of recovering their archives. They say people across the country have been instrumental in that road to recovery. They are also in the process of rebuilding. If you'd like to help, click here.