Advocates rally for LGBTQ fairness rights at the Capitol
Kentucky leaders, fairness advocates, and LGBTQ students and their parents let their voices be heard, pushing back against nine anti-LGBTQ bills in Kentucky that have already been filed in the general assembly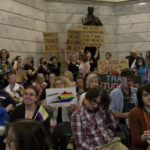 FRANKFORT, Ky (WTVQ)- Hundreds gathered inside the state Capitol rotunda Wednesday advocating for LGBTQ rights.
It was all part of the 2023 Ky Fairness Rally. Kentucky leaders, fairness advocates, and LGBTQ students and their parents let their voices be heard, pushing back against nine anti-LGBTQ bills in Kentucky that have already been filed in the General Assembly.
"They're taking rights away from kids, literal minors. I think that that's wrong. I think everyone deserves human rights. That's a basic necessity: life, liberty, and the pursuit of happiness. And if they're taking away rights, and forcing people to come out, that is in no way in pursuit of happiness," says Lillian Stewart, the president of the Frederick Douglass Gay Straight Alliance at the high school.
Rallyers say those bills discriminate against some of the most vulnerable transgender students.
Among those bill include house bill 150, which passed out of the senate education committee just last week. The bill would teachers to misgender their transgender students.
Advocates against the bill say the measure puts more transgender youth at greater risk of harm.
"If you out a kid who's not in a safe environment, they could be killed. They could be put in conversion therapy. They could be put into something that would make them not safe. I think that everyone here can empathize with the fact that kids should not be in an unsafe environment," says Stewart.
The list of speakers included Kentucky Governor Andy Beshear, Lt. Governor Jacqueline Coleman, former Kentucky Senate candidate Charles Booker, as well as other state government leaders.
Representative Lisa Willner speaking on the day she filed house bill 162- which, if passed, would ban conversion therapy on minors.
"For me, the side that wants to hurt us, wants to marginalize, to demonize, to dehumanize, to erase, have chosen our schools as their battle ground. We have had enough," says Willner.
Speakers also highlighed troubling stats: among the most concerning, nearly half of LGBTQ youth has considered suicide in the past year.
Participants say it was important for them to show up and make their voices heard.
"We've got other problems. We've got other problems we don't need to be putting into legislation basically just bullying trans and queer people," says Melodie Jaeger, a transgender woman.
Many of those we spoke with today say they won't stop advocating for LGBTQ rights and plan to keep their fight going for as long as it takes.